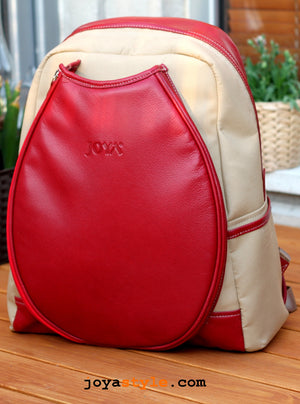 Joya Bpack TC1 Younger Kids' Tennis Backpack
Youth and Kids Tennis Bag
All of them are made of cowhide , handcrafted by expert bag masters in the sector.
Special front zippered section for your favorite racket. (Comfort for your racket that you have to take off often)
Inner section with 4 ball capacity. (Especially to keep dirty balls elsewhere)
Its interior volume is specially designed according to your sports needs .
Inside;
Ipad (all tablets) protective chamber + phone chamber + towel chamber + a zippered section for your personal belongings.
There is a capacity of 5 racquets , one in the outer section and four in the inner chamber if desired.
The inner lining is made of waterproof fabric.
One of the features of these tennis bags, which are produced in a certain number, is that they can be used in your other sports activities .
In short, this stylish Sports Tennis bag that you can use for many years with pleasure and will make a difference wherever you go is now all over Turkey..
Model name BPACK TC1